You're going on holiday, but don't want to pay for your luggage to make the trip cheaper? In order not to overpay in low-cost airlines, you need to be able to pack your hand luggage well. These tips will help you not only on a trip, but also if you're gathering in the mountains, at the colonies or even to your family for a holiday. One of the most important skills of a traveler is to know how to pack a backpack to carry the right amount of things.
The following packing tips will help you pack your backpack and take only the necessary things for your trip:
Choose your backpack
You may be tempted to carry a large backpack, but this may make you take unnecessary things. Nowadays people follow the rules of choosing a backpack, which provide enough space to take only the necessary things for your holiday. Most backpacks allow you to place your electronics and cosmetics in the right way.
Take part in a trail run
You may not believe it, but you need the same amount of luggage for a few days as you need for a long journey. You just have to take part in a run to believe it. Pack everything you need, then unpack, then choose the most important ones and just add them. This should be about half of what you think you needed at first. Pick the necessary stuff and you'll be happier without a doubt.
Roll up your clothes
Increase the space in your backpack by rolling up your clothes and stacking them in layers. This will help you avoid creases, and help you fit more things in your hand luggage.
Wear plastic bags
Among the basic things to put in your backpack, there must be plastic bags. They help to store wet swimsuits, leaking hair gel or dirty shoes. They help to maintain perfect organization and act as another waterproof layer.
Correctly place the electronics
Electronic items are fragile and require care. For example, you can't keep them in the same place where you keep a bottle of water. You need to make sure that your backpack is allocated a place to store the electronics, and all other items will be delivered later. Laptop backpacks are ideal for these cases.
Use locks
You may know the best tips to travel the world cheaply, but you can't care less about the things you already have. In order for no one to steal your things from your backpack, you must have locks with you. Bicycle locks are best because you can attach the backpack to your bed when you are in the hostel.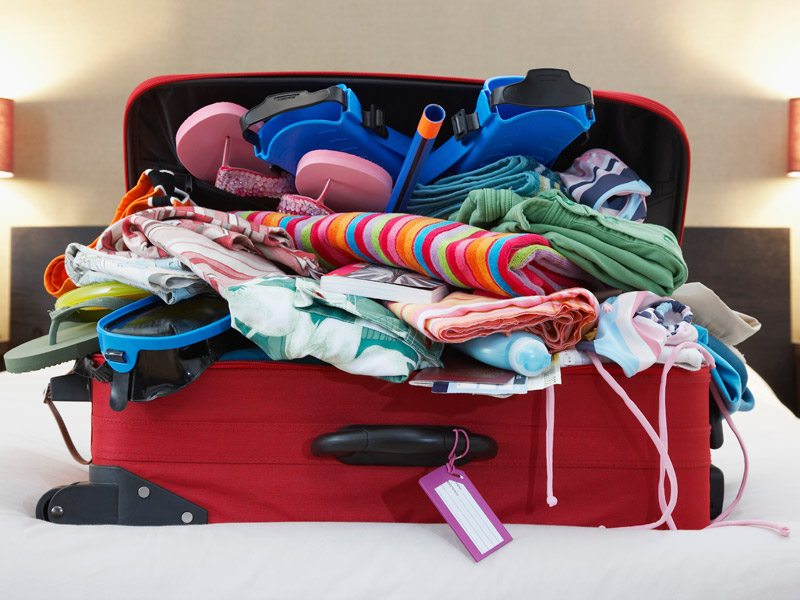 Minimize weight
A mountain traveller with a backpack It's not just about the things you have to take on the journey, but how you manage them. Suppose you move to a cold place and have a big jacket that takes up a lot of space. You can wear it most of the time or wear it in your hand. You will reduce and balance the weight in your backpack.
Don't pack too much
After packing your backpack, focus on the things you need to travel. Also focus on leaving some space for you to bring gifts, souvenirs and so on. Plan wisely when it comes to wearing clothes and shoes. You can wear some things in many ways. You can take three shirts with one pair of jeans. Take one pair of shoes in your backpack, while it's best for the other to fit almost any situation.
You need to know where all things are
Pack your backpack so that all things are easy to pull out. For example, if you know you won't play with your backpack until you get to the hotel at night, keep your shirts and pyjamas loose upstairs. This saves you from unpacking the whole backpack.
Share the load
How to pack a backpack for a trip, 2 travellers.If you are not travelling alone, you can share packing tips with your friends. Tell them how to pack your backpack and see if they have some space for some of your things. Suppose you're going on a camping trip with a group of four people. One can take care of the food, the other can take care of the basic things for the campsite, one can wear all your clothes and you can take care of the rest.
Take snacks
Use your backpack pocket to store your snacks. They also help you pack your toiletries and first aid. You may need snacks when you're on the road, and if you put them in the main ward, they can crush them.
Get a waterproof bag cover
The weather is not expected to go as expected. You can expect rainfall anywhere, as long as it is not a desert. Tourists always have to wear waterproof backpack covers as they change their destination from time to time. Even if you are not a nomad, it is important to keep your equipment safe.
Reduce the load
Pack your backpack in such a way that the load is equal on different levels. This means you don't have much at the top or bottom. Carrying too much in one of these places can lead to neck tension or back pain and so on. Reduce the load by packing levels.
Cover your valuables
No matter how hard you try, something can go wrong. It is worth taking out insurance so that valuable things can be exchanged if they are lost or stolen along the way.
These were some valuable tips for packing your backpack or suitcase into your hand luggage, a mountain trip or any other trip. Share them with other travellers to let them know how to pack for the trip. You may be able to share your load and help each other.